Luck of the Irish & Magic Show Quest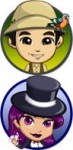 Bedazzle and make some magic in FarmVille and throw a St. Patrick's Day party in FarmVille's new quest Luck of the Irish & Magic Show Quest. This mission guide will give you an idea on what you may expect on the up and coming new tasks so you can prepare early especially with those mastery requirements. The unreleased quest will have nine task and will run for 2 weeks. This maybe FarmVille's way of celebrating the St. Patrick's Day so we may expect "Shamrocks" type of rewards, "four leaf clovers" and some magic show. Also don't be surprise if you'll see a levitating chicken. So farmer's without further ado let's start and party.
Reminder: Please prepare ahead for the quest by building early the storage buildings that the quest may require. It will save you more time to finish this early and may have a chance to redo it again.
Luck of the Irish & Magic Show Quest 1: FarmVille Pinch Me, I'm Irish
Mission:
Ask friends for 4 Clover (request for )
Harvest 50 Soybeans (skip
10)
Harvest 2 Livestock Pens (skip
10)
Rewards:
1 Leprechaun Pig, 125 xp, 2,500 coins
Categories: Farmville Quest Guide, Luck of the Irish & Magic Show Quest Tags: abracadabra, alakazam, farmville march 2012 quest, greening, im irish, makin magic, misdirection, patties party, pinch me, put on a show, st patrick quest guide, ta daa