FarmVille Brewing Wagon Guide
FarmVille Brewing Wagon is one of the main crafting building that will be introduced in FarmVille Carnaval de los Muertos (a new farm expansion). This will be the crafting building where we are going to craft a collection of recipes that are exclusive for this building using the bushels that we are going to collect by harvesting Carnaval de los Muertos crops.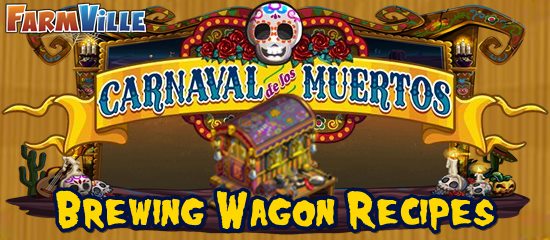 Initially there will be a total of 8 recipes available for players to craft. As the game progress, you will gain experience points by using the Brewing Wagon. You gain by either crafting recipes or friends buying your crafted recipes. You can have to 5 star level Brewing Wagon.
Oscuro Somberero = Cornivale Bushel x3, Upside Down Shades Bushel x3 and Chocolate Cosmos Bushel x2.
 Mastery Count: 10 | 20 | 30 | 40 | 50
Crafting Time: 1 hour
Cursed Fruit = Ferris Wheat Bushel x2, Hairy Clown Nose Bushel x2 and Chocolate Cosmos Bushel x3.
 Mastery Count: 10 | 20 | 30 | 40 | 50
Crafting Time: 1 hour
Enchanted Ring = Cornivale Bushel x3, Chocolate Cosmos Bushel x3 and Ferris Wheat Bushel   x2.
 Mastery Count: 10 | 20 | 30 | 40 | 50
Crafting Time: 1 hour
Muerto Mask = Ferris Wheat Bushel x3, Abandoned Lotus Pods Bushel  x3 and Coffeen Pods Bushel x3.
 Mastery Count: 10 | 20 | 30 | 40 | 50
Crafting Time: 2 hours
Flor Headdress = Flowers Of The Dead Bushel x3, Abandoned Lotus Pods Bushel x3 and Bleeding Drupe Bushel x3.
 Mastery Count:13 | 23 | 33 | 43 | 53
Crafting Time: 2 hours
Patron Guitarra =  Sour Pumpkin Bushel x2, Purple Blades Bushel x2 and Mexican Skullflower Bushel x2.
 Mastery Count: 13 | 23 | 33 | 43 | 53
Crafting Time: 2 hours
Festive Maracas = Bleeding Drupe Bushel x3, Grapeyard Tombs Bushel x3 and Poppy Capsule Bushel x3.
 Mastery Count: 10 | 20 | 30 | 40 | 50
Crafting Time: 4 hours
Catrina Gingerbread = Ghost Blooms Bushel x3, Flowers Of The Dead Bushel x3 and Itchy Beans Bushel x2.
 Mastery Count: 10 | 20 | 30 | 40 | 50
Crafting Time: 4 hours
Hombre Bigote = Bone Flower Bushel x3, Ruby Moon Bushel x3 and Toxoids Bushel x3.
 Mastery Count: 10 | 20 | 30 | 40 | 50
Crafting Time: 8 hours
Calavera Candles = Grapeyard Tombs Bushel x3, Spider Flower Bushel x3 and Cursed Cluster Bushel x3.
 Mastery Count: 13 | 23 | 33 | 43 | 53
Crafting Time: 2 hours
Voodooed Doll = Ghost Blooms Bushel x3, Flowers Of The Dead Bushel x3 and Ruby Moon Bushel x3.
 Mastery Count: 13 | 23 | 33 | 43 | 53
Crafting Time: 2 hours
Decorado Ataud = Bone Flower Bushel x3, Spider Flower Bushel x3 and Abandoned Lotus Pods Bushel x3.
 Mastery Count: 13 | 23 | 33 | 43 | 53
Crafting Time: 3 hours
Craneo Pumpkin = Ruby Moon Bushel x3, Sour Pumpkin Bushel x3 and Flowers Of The Dead Bushel x3.
 Mastery Count: 13 | 23 | 33 | 43 | 53
Crafting Time: 8 hours
Rose Bracelet = Cursed Cluster Bushel  x3, Grapeyard Tombs Bushel x3 and Cotton Candy Bushel x3.
 Mastery Count: 13 | 23 | 33 | 43 | 53
Crafting Time: 4 hours
Crystal Ball = Abandoned Lotus Pods Bushel x3, Toxoids Bushel x3 and Dried Ghost Pepper Bushel x3.
 Mastery Count: 19 | 29 | 39 | 49 | 59
Crafting Time: 6 hours
Clown Hammer = Itchy Beans Bushel x3, Dried Ghost Pepper Bushel x3 and Gum-nuts Bushel x3.
 Mastery Count: 19 | 29 | 39 | 49 | 59
Crafting Time: 6 hours
Juggling Skulls = Purple Blades Bushel x3, Grapeyard Tombs Bushel x3 and Toxic Pumpkin Bushel x3.
 Mastery Count: 19 | 29 | 39 | 49 | 59
Crafting Time: 6 hours
Sagrado Hear = Coffeen Pods Bushel x2, Ruby Moon Bushel x3 and Spider Flower Bushel
Mastery Count: 19 | 29 | 39 | 49 | 59
Crafting Time: 6 hours
Mago Conejito = Datura Seed Pod Bushel x3, Poppy Capsule Bushel x3 and Gum-nuts Bushel x3.
Mastery Count: 22 | 32 | 42 | 52 | 62
Crafting Time: 4 hours
Huesos In The Box = Cursed Cluster Bushel x2, Gum-nuts Bushel x2 and Purple Blades Bushel x3.
Mastery Count: 22 | 32 | 42 | 52 | 62
Crafting Time: 6 hours