Renaissance Fair in FarmVille Countdown
Renaissance Fair is the newest theme for the FarmVille Countdown feature which is coming this April. Win up to 16 new exclusive items plus a bonus reward of Venetian Stallion. To win, you'll just need to collect the item of the day. Once you collected and meet the required amount of stamps, you'll receive the reward of the day.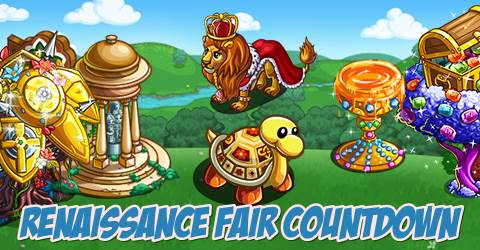 How the RENAISSANCE FAIR COUNTDOWN works:
Collect stamps to host the Renaissance Fair.
Ask your friends for 16 days of stamps to redeem great prizes.
Helping a friend will also gives you additional stamps.
Collect all 16 again and get BONUS PRIZE of Venetian Stallion.
Here's a look at the REWARDS and the STAMPS:
Royal Shield Tree
Precious Gem Turtle
Gemstoned Tree
Musician Fox
Knight Statue
Medieval Time Arch
Highborn Goat
Chalice Fountain
Royal Lion
Gem Chess Board
Renaissance Gazebo
Hatted Chicken
Richly Gnomette
Associate Bear
Queenly Peacock
Renaissance Pony
Venetian Stallion