Farmville Fashion Week Farmstand
FarmVille Fashion Week is the newest theme for the FarmVille feature Farmstand. Ask your friends to help you sell  your goods and win the prize of the day. Helping a friend will also earn you a sale. You can win up to 21 new exclusive gifts and rewards. Be the top seller for the whole FarmVille and win a bonus reward, a trophy and much much more! The Fashion Week Farmstand will start on July 4th.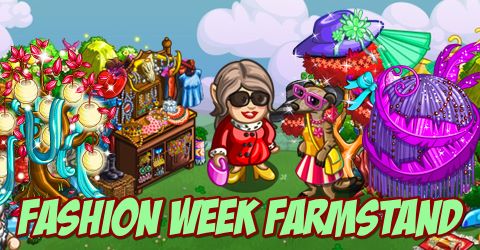 How the FASHION WEEK FARMSTAND works:
Ask friends to help you sell your goods! Helping a friend gives you both a sale!
New prizes are available every 24 hours! Earn a sales boost for each prize you win!
Each item you sell counts toward your total! Compete against all farmers for the top spots!
Fashion Week Farmstand is placed off your farm; Zoom out to see the farmstands on each of your farms and your progress can be viewed by clicking on Fashion Week Farmstand.
REWARDS:
Day 1
Day 2
Aurora Flapper Tree
Golden Lantern Tree
Day 3
Day 4
Tri Hatted Tree
Floral Kimono Cat
Day 5
Day 6
High Fashion Chihuahua
Swanky Hat Stand
Day 7
Day 8
High Fashion Gnomette
Trendy Fashion Meerkat
Day 9
Day 10
HipHop Fashion Monkey
High Fashion Statue
Day 11
Day 12
Contemporary Clothes Collection
Blue Scarved Goose
Day 13
Day 14
Upscale Fashion Mirror
Fashionable Gnomette Fountain
Day 15
Day 16
Ruby Fashioned Peacock
Charming Suited Panda
Day 17
Day 18
Catwalk Ramp
Narcissist Duck
Day 19
Day 20
Elegantly Dressed Pig
Posh Fashion Chicken
Day 21
Trend Setting Pegacorn
Post a Comment