FarmVille Haunted Hollow Farm First Look
This will be a preview of the upcoming FarmVille new farm extension the FarmVille Haunted Hollow. This maybe release for an early access next week. It features a lot of creepy and cool decorations, trees, animals and even the crops. Here are some of the info that we gathered so far and more will be release as soon as we get more info: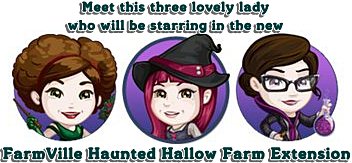 New NPC:
Belinda Tiller, Rose Tiller and Lilian Tiller
New Farm Vehicles:
Seeder, Tractor, and Combine
New Crafting House:
New Decorations:
New Gnomes:
Shakespeare Gnome, Alchemist Gnome and Medusa Gnome
New Crops:
Spectres Strawberries, Jack o Lantern, Tombstone
Phantom Frond, Zombie and Candied Corn
New Animal Breeding Pens:
Aviary, Horse Paddock, Chicken Coop
Orchard:
Treasures:
Storage Cellar:
More to come as we go closer to the Official release of FarmVille Haunted Hollow, the new FarmVille farm extension.
Post a Comment